The official partnership of global players in the area of ERP and Robotics Process Automation (RPA) is great news and an opportunity to maximize the potential of both platforms – both in on-premise (E-Business Suite) and Cloud (Oracle Fusion).
In this article, I want to highlight the most important areas, their impact on leveraging the potential of automation core processes and Aspire Systems position in this journey.
Why so much noise?
This major partnership combines powerful RPA with Oracle's expansive cloud platform and business applications to streamline critical workflows and complex processes.
Oracle automation enables business and users to deliver streamlined processes that utilize the strength of Oracle functionality with easy-to-use processes and routines that accelerate the flow of work and ease of use.

It provides a range of possibilities across Oracle applications such as EBS, Fusion, Siebel, Peoplesoft, JDE, and HCM to automate business processes by easy-to-use and drag-and-drop activities. Easier than ever before.
Placing bots on the Oracle Cloud Platform gives control over the path to digital transformation, ensuring flexibility in its scaling.
The combination of Oracle Integration Cloud (OIC) and UiPath gives unlimited possibilities of automating business processes also with third-party applications by reducing the development time and bringing faster time-to-value.
Watch the video below about what Oracle and UiPath leaders say about plans for the future.
Why this is important?
Modern business pays more attention to its resources, people and time than ever before. To achieve the best results, it is necessary to use the best technology and an experienced partner who will indicate the right solutions for your business.
Aspire Systems, as a strategic and global partner of both Oracle and UiPath, combines the experience and knowledge of these technologies, providing synergy by way of automation of a dozen core processes in cases like Finance & Accountancy, HR/Payroll, Supply Chain, Insurance, and many more: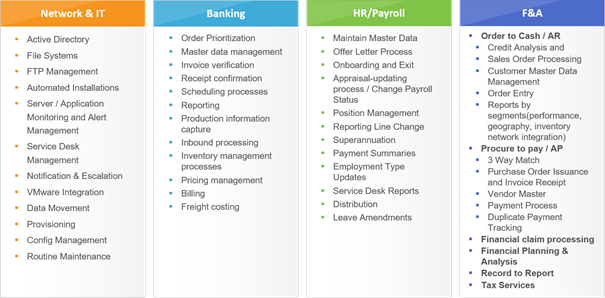 Focus on strategic tasks that require human contact, and scale powerful automations to keep up with the pace of the business. Increase the productivity of Oracle applications and accelerate digital transformation with end-to-end RPA automation that eliminates manual errors and reduces operational costs.
Conclusion
At Aspire, the practice of Oracle and RPA applications is growing dynamically, and the Polish nearshore branch is becoming an important point supporting business in the CEE region.
Aspire's Oracle EBS & Fusion experts are proactive in handling functional plus technical aspects of Cognitive Robotic Process Automation implementation.

We are focused on development in these areas, providing our team with many opportunities and challenging projects, and resulting in success for the client.
If you want to learn more about Oracle EBS Automation visit Aspire Oracle Resources or ask us about tips and tricks.
Author of this blog is Jakub Wajda, Aspire Systems.
Tags: Aspire Systems Poland, E-Business Suite, Fusion, Oracle, RPA, UiPath