Outsourcing (nearshoring and offshoring included) your IT services to an external provider is a hard decision. Unfortunately, the media pays a lot of attention towards the outsourcing projects that failed. In general the reason of the failure is hardly ever well investigated nor described. In my opinion a very important cause is the lack of trust at the outsourcer's side. Without this trust you use your provider just as a resource provider, you will never manage to excel together. However, a successful outsourcing partnership is based on mutual trust. So how to achieve this?
Too much focus on control by contract
In general there is a lot of focus on the contractual side of outsourcing projects. By defining things well outsourcers want to feel that they control the situation. But to be honest, a piece of paper gives you little control. You will get a lot more control by choosing the appropriate way of cooperation, by getting to know the people at the other side. Invest in the relationship before you start. Have a beer together, discuss relevant technological issues, get to know each others hobbies, private situation etc. Probably now you will realize that this is the way how you get to know your own direct colleagues better. So, why don't you just treat the outsourced "resource" as your remote colleague(s)? What's the difference?
Defining the project together improves the result
For a successful project the real needs of the client have to be fully clear to the development team. In practice this part is really underestimated. Most of the requests for proposal are not well defined and will almost always lead to a failure, unless the development team feels that they are allowed to improve the "design".
I will give a simple example to make the issue more clear. Try to explain a simple thing as a birthday cake that you would like to order by phone or email. Are you sure you will manage to get what you want? Probably not and then it is only about a birthday cake and not even about a complex software solution.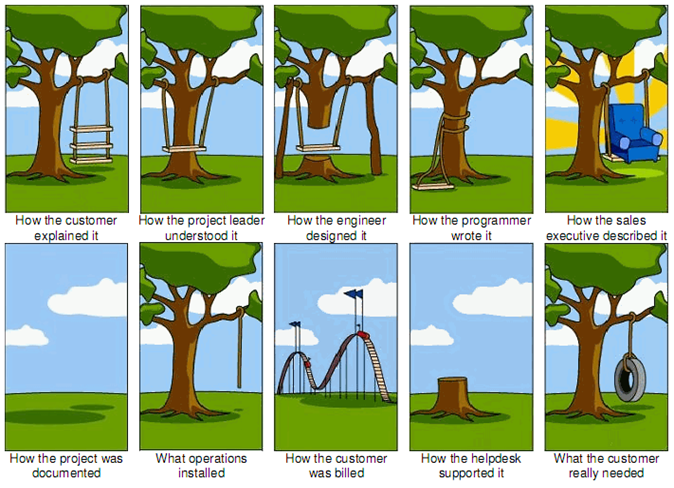 The image below shows a probably well known example related to software development. Unfortunately I do not know the original source of this image.
Sharing information, experiences and thoughts is the most important thing to come to a good solution. It enables the outsourcer and provider to define the needed solution together. And this needs trust from both sides. The outsourcer needs to feel secure that he is able to share his business strategy with the provider. The provider needs to feel safe to ask whatever he likes to let the outsourcer know whether he understands a request or not. If this is going well, one thing is for sure. The provider will start sharing its knowledge and creativity. He will feel more involved, become a partner and makes that his client's business will excel.
How to achieve this?
Probably we all agree that the above sounds great, so how to achieve it? I am not going to tell that this is easy. Unfortunately, as a consultant I was several times requested to mediate between outsourcers and providers because something went wrong. On the other hand I also saw several success cases. During the past years I am experiencing at GOYELLO that it is really possible to grow into a powerful partnership. This means an investment from both sides. In general in our case we visit our clients several times at their location. Afterwards the clients visit us for several days. During these days we get to know each other better. Besides we have a lot of fun. We proudly show them Sopot and Gdańsk, two beautiful cities in Poland. After these days most of the clients return several times during the project.
"All lasting business is built on friendship." –
— Alfred a. montapert
Never before had I such intensive relationships with clients as we are having now. Projects are running rather smooth. Of course not everything is going well all the time. But in general issues are fixed in no time. When a client does not want to invest this much into the relationship, things are a lot harder. Then a lot more communication is needed to bridge the geographical distance. And that is a real pity. Projects are a lot more efficient and effective when you know each other!